Digital Artwork Specifications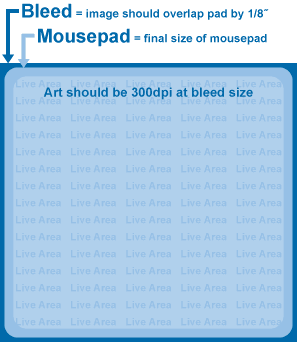 Transfer Media
CD, e-mail attachment (under 3Mb only) to artwork@mousepads.com, ftp transfer to artwork@mousepads.com with Hightail.
Production Time
Our standard lead time for most orders is 7 days from receipt of usable art & payment. Rush service is usually available upon request. We will work with you in whatever way we can to meet your order requirements.
Art Specifications
Art must be provided as output ready digital files. All file formats must be correctly sized and placed with all required elements present. 1/8 inch of bleed is required for backgrounds or images that are placed at the edge of the mouse pad. Prior to sending us your native file format, email us a PDF file so we may view what your art looks like. Then we can better advise you on how to send us your original artwork file.
Software
MAC & PC InDesign, Photoshop, Illustrator, 300 DPI TIFF, EPS, AI or print-ready PDF. Send the file in its native format if it is one of the programs we support. Include all graphic files (scans, pictures, placed images, etc.)
Graphic File Format
Submit an editable version of all files. Be sure to include all linked files along with your document. Photoshop files should be submitted in native Photoshop format (.PSD) with layers, or EPS or TIFF format (preferably TIFF and no less than 300 dpi resolution). Illustrator files should be saved with .ai extension or in EPS format. The higher the resolution, the better the quality of the final printed product.
gif, jpg, jpeg, pict, and bmp file formats are usually not acceptable – unless the jpeg file is high quality (300 dpi or higher). We can not accept MS Word, Publisher, PowerPoint, or Excel files. Web pages or web banners are also not acceptable.
Prepare a Print-Ready File
Include all fonts (outline/postscript/screen). Check for missing or modified images. Include all placed image files. Make sure all graphics have the proper resolution (at least 300 dpi.) Make sure your color images are CMYK, not RGB. In order for your color images, type and objects to print correctly you need to change them to CMYK.
Color
Colors should be designated as spot or CMYK process colors. For printing purposes, all colors will be converted to CMYK and printed with CMYK process ink. Colors defined as RGB must be redefined as CMYK. Converting spot or RGB colors to CMYK may change the appearance of the color. A color output is necessary for any four color process (CMYK) imprint. Four color process (CMYK) Hard Surface pads require a calibrated color proof which must be generated from the submitted files.
Fabric surface pads require a color print which is used as a reference only, so a high quality color laser or inkjet output is sufficient if it meets your color expectations according to the digital file. The sublimation process on cloth is designed to create a representation of the image you want. Some variation from the color target is normal and expected. Because there may be dot gain in the sublimation process, when the art element is too small, there is a tendency for the dyes to fill in the reversed area. It would be advisable to keep your serif fonts at 18 point or greater, and sanserif fonts at 12 point bold or greater. All reversed lines should be 1.5 point or greater. All reversed type should be set bold, and add a .25 point stroke to it if it is a serif font.